WD My Passport Wireless Pro

Wi-Fi Mobile Storage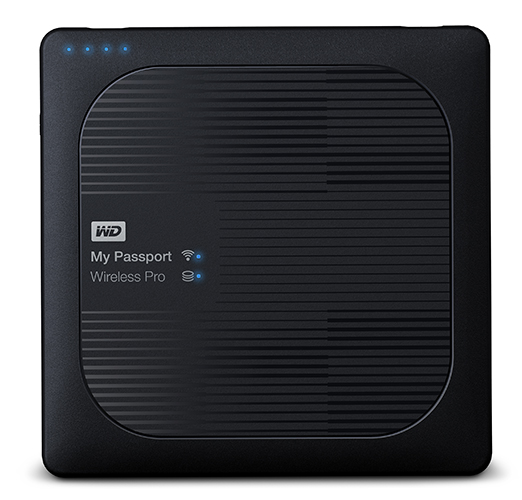 1TB MY PASSPORT WL PRO
Capacity: 1 TB
Interface: Wi-Fi, SD card slot, USB 3.0
2TB MY PASSPORT WL PRO USB 3.5
Capacity: 2 TB
Interface: Wi-Fi, SD card slot, USB 3.0
3TB MY PASSPORT WL PRO USB 3.5
Capacity: 3 TB
Interface: Wi-Fi, SD card slot, USB 3.0
4TB MY PASSPORT WL PRO
Capacity: 4 TB
Interface: Wi-Fi, SD card slot, USB 3.0
Overview:
Offload, edit and stream anywhere.
Wireless 802.11ac to quickly transfer content
SD 3.0 card reader for fast media offloads
All-day battery life* (up to 10 hours)
High-capacity, wireless mobile storagevdesigned to accompany professionalvphotographers and videographersvin the field for easy and wirelessvoffloading, editing and streamingvof captured photos and HD videos.
Wireless storage wherever you go
vBuilt with wireless 802.11ac technology, you can quickly transfer imagesvand videos wirelessly from a compatible camera. Once on the drive, youvcan back up, view or edit your shots with a connected tablet or laptop.
Save time with SD 3.0
vEquipped with an SD 3.0 card reader, you can quickly back up photosvand videos on the fly. Offload your camera's entire SD card in onevmove and keep your workflow running smooth.
All-day battery life
vUp to 10 hours of continuous use.* Bring it on an all-day photo shootvand stay out in the field longer. Take it on a long trip and continuouslyvstream videos on the road or in flight.*
*Based on streaming HD 720p, 3 Mbps video to one device over Wi-Fi 2.4 GHz singlevband only. Actual battery life depends on file size, type, format, bitrate, devicesvconnected, Wi-Fi connectivity, settings and other factors.
Built-in power bank
vCharge your smartphone or other USB devices on the go with thevintegrated 6,400 mAh power bank. Super-fast USB 3.0 transfer speeds Save time when moving or backing up .RAW images or HD videos withvthe transfer speeds of USB 3.0.
Import media from external USB devices
vUse the convenient USB 2.0 port to easily transfer media from anvexternal USB storage device, like a compatible DSLR or CF card reader.
Beautifully organize and stream with Plex™
vPlex organizes your entire media collection with one simple interfacevand visually enhances it by adding descriptions, plot summaries, postersvand album covers. Wirelessly stream media stored on your My PassportvWireless Pro to all your devices, including your PC and Mac computers,vsmartphones, tablets, Smart TV and more.
Access files wirelessly
vWirelessly connect My Passport Wireless Pro to your mobile devices usingvthe My Cloud mobile app so you can view, organize, edit and share yourvmedia files from anywhere with your tablet and smartphone.
Adobe® Creative Cloud® connected
vMy Passport Wireless Pro is Creative Cloud connected through the My Cloudvmobile app, so you can quickly get your photos and videos from your cameravto your drive and into the Creative Cloud ecosystem.
Works with PC and Mac computers out of the box
vFormatted ExFAT eliminates the need to reformat your My PassportvWireless Pro. Just start it, connect and go.
Safeguard your captured moments
vWi-Fi password protection helps keep your photography, videography, musicvand important files safe from unauthorized wireless access. Set up Drive Lockvin the device dashboard to prevent USB access to your content in the unlikelyvevent it is lost or stolen.
Create your own Internet hotspot
vUse My Passport Wireless Pro as a Wi-Fi hub to share an Internet connectionvwith up to eight (8) devices.
Stream up to 8 HD videos simultaneously
vConnect multiple devices to your My Passport Wireless Pro andvsimultaneously stream up to 8 HD videos (8 videos x 8Mbps HD MP4 streams).vPerfect for sharing video footage from your latest shoot or keeping a groupventertained on a long road trip.
Specifications:
| | | | |
| --- | --- | --- | --- |
| Model # | Interface | Capacity | Operating System |
| WDBSMT0030BBK | Wi-Fi, SD card slot, USB 3.0 | 3 TB | Windows/Mac |
| WDBP2P0020BBK | Wi-Fi, SD card slot, USB 3.0 | 2 TB | Windows/Mac |
Compatibility
Windows® 10, Windows 8 or Windows 7 operating systems
Mac OS® X El Capitan, Yosemite, Mavericks or Mountain Lion operating systems
DLNA®/UPnP®or Plex-enabled devices for streaming
Package Includes
Wi-Fi mobile storage
USB cable
USB power adapter
Quick Install Guide
Interface
Wireless 802.11ac
vSD card slot
vUSB 3.0
vUSB 2.0 (host)
Kit Contents
Wi-Fi mobile storage
vUSB cable
vUSB power adapter
vQuick install guide
Dimensions
2TB and 3TB
vLength: 5.00in (126.00mm)
vWidth: 5.00in (126.00mm)
vHeight: 0.94in (24.00mm)
vWeight: 1.00lb (0.45kg)
Operating Specifications
Data transfer rate*
USB 3.0 up to 800MB/s
vSD 3.0 up to 104MB/s
v1x1 AC up to 433Mb/s
vOperating temperature: 0°C tov35°C
vNon-op. temperature: –20°C tov60°C

1A USB 3.0 host and USB 3.0 certified cable are required to obtain USB 3.0 speeds.
System Compatibility
Formatted ExFAT for:
Windows® 10, Windows 8 or Windows 7 operating systems
Mac OS® X El Capitan, Yosemite, Mavericks or Mountain Lion
DLNA®/UPnP® or Plex-enabled devices for streaming
Compatibility may vary depending on user'svhardware configuration and operating systems.
Capacities And Models
2TB WDBP2P0020BBK
v3TB WDBSMT0030BBK
Limited Warranty
2 years Worldwide