WD Gold

3.5-inch Enterprise Class SATA Hard Drive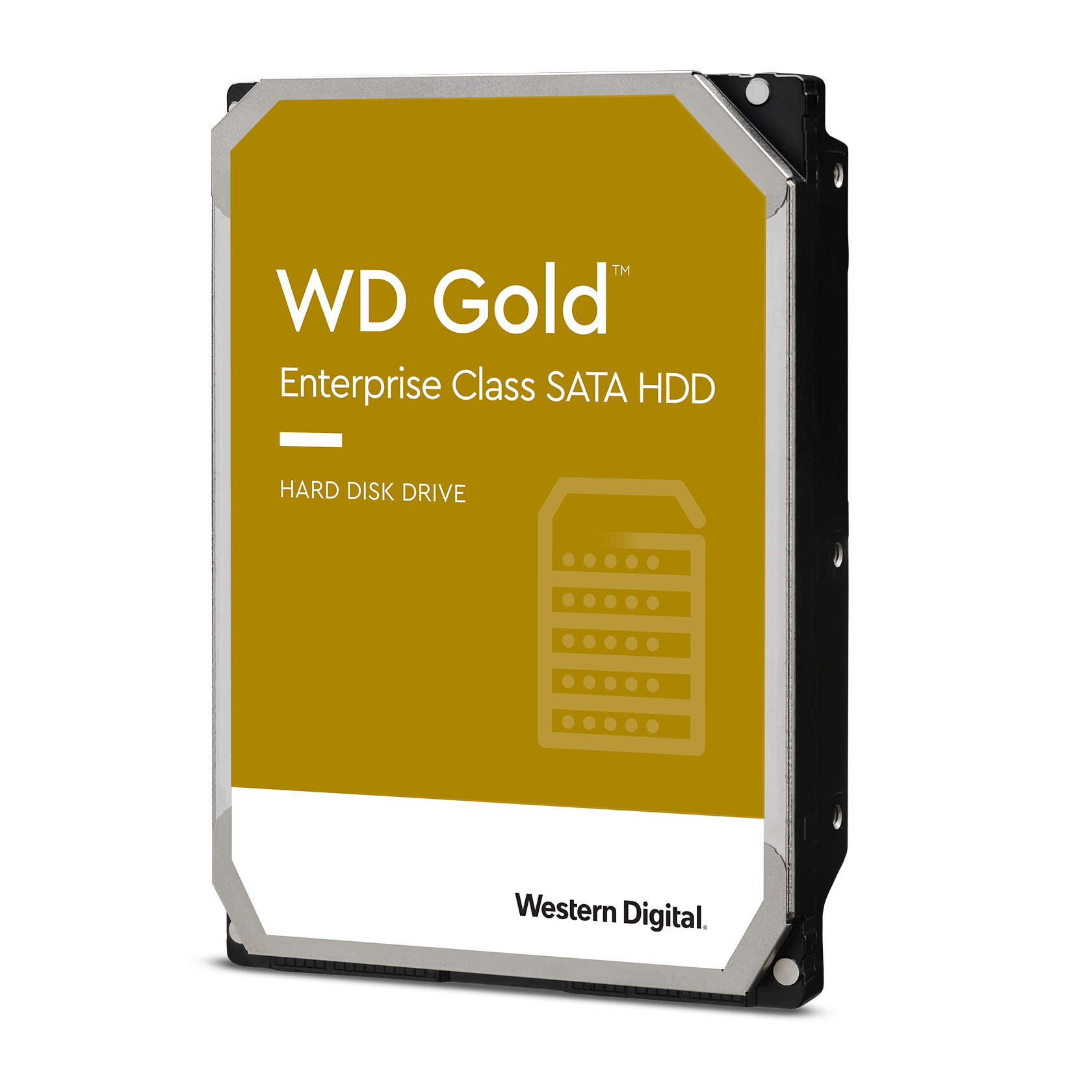 WD Gold 3.5-inch Enterprise Hard Drive - 1TB
#WD1005FBYZ
Our Price: $83.99
Take on tough workloads; up to 10 times the typical desktop rates
Enhanced reliability with up to 2.5M hours MTBF
Specifically designed for use in enterprise-class storage systems and data centers
20TB on a 9-disk CMR drive utilizing the first implementation of OptiNAND technology's capacity-enabling features
Energy-assisted magnetic recording (EAMR) and triple-stage actuator (TSA) (in 16TB capacities and above)
Click here to jump to more pricing!
Overview
Conquering Tough Workloads With Enterpriseclass HDDs
Available in 1TB to 20TB1 capacities, these highly reliable solutions for demanding storage environments provide up to 2.5M hours MTBF3, vibration protection technology and a low power draw thanks to HelioSeal technology (for 12TB and above). Specifically designed for use in enterprise-class data centers and storage systems, the WD Gold SATA HDDs deliver the world-class performance you expect from Western Digital hard drives.
Beyond Expectations
WD Gold hard drives are performance-optimized for heavy application workloads and are designed to handle workloads up to 550TB2 per year. Whether you need 1TB or 20TB1, the wide capacity range of WD Gold HDDs solves for the most demanding storage environments.
Vibration Protection
WD Gold has sophisticated monitoring electronics that help correct linear and rotational vibrations in real time using enhanced vibration protection technology for improved performance in high-vibration environments.
Enhanced Reliability
With up to 2.5M hours MTBF3, WD Gold hard drives deliver enhanced levels of dependability and durability.
Play Well with Others
Broadly compatible with most PC and major enterprise operating systems. Specifically designed for use in enterprise-grade data centers and storage systems.
Reimagining the HDD
WD Gold offers 20TB on a 9 disk CMR drive with reimagined HDDs utilizing the first implementation of OptiNAND technology's capacity-enabling features.​
5-Year Limited Warranty
Every WD Gold HDD comes with a 5-year limited warranty, so you can be confident in your storage.
Leading the Way
Energy-assisted magnetic recording (EAMR) technology enables higher media precision and increases areal density. The triple-stage actuator (TSA) enhances the accuracy of head-positioning and delivers better performance and data integrity to also increase areal density. Both EAMR and TSA are available only in 16TB capacities and above.
1 As used for storage capacity, one terabyte (TB) = one trillion bytes. Total accessible capacity varies depending on operating environment.
2 Workload Rate is defined as the amount of user data transferred to or from the hard drive. Workload Rate is annualized (TB transferred X (8760 / recorded power-on hours)). Workload Rate will vary depending on your hardware and software components and configurations.
3 MTBF and AFR: Projected values for model number WD201KRYZ. Final MTBF and AFR specifications will be based on a sample population and are estimated by statistical measurements and acceleration algorithms under typical operating conditions, workload 220TB/year and temperature 40C. Derating of MTBF and AFR will occur above these parameters, up to 550TB writes per year and 60C ambient (65C device temp). MTBF and AFR ratings do not predict an individual drive's reliability and do not constitute a warranty
---
Pricing Notes:
Pricing and product availability subject to change without notice.
Western Digital Products
WD Gold Enterprise
WD Gold 3.5-inch Enterprise Hard Drive - 1TB
#WD1005FBYZ
Our Price: $83.99
WD Gold 3.5-inch Enterprise Hard Drive - 2TB
#WD2005FBYZ
Our Price: $117.99
WD Gold 3.5-inch Enterprise Hard Drive - 4TB
#WD4003FRYZ
Our Price: $149.99
WD Gold 3.5-inch Enterprise Hard Drive - 6TB
#WD6003FRYZ
Our Price: $208.99
WD Gold 3.5-inch Enterprise Hard Drive - 8TB
#WD8004FRYZ
Our Price: $236.99
WD Gold 3.5-inch Enterprise Hard Drive - 10TB
#WD102KRYZ
Our Price: $280.99
WD Gold 3.5-inch Enterprise Hard Drive - 12TB
#WD121KRYZ
Our Price: $351.99
WD Gold 3.5-inch Enterprise Hard Drive - 14TB
#WD141KRYZ
Our Price: $453.99
WD Gold 3.5-inch Enterprise Hard Drive - 16TB
#WD161KRYZ
Our Price: $549.99
WD Gold 3.5-inch Enterprise Hard Drive - 18TB
#WD181KRYZ
Our Price: $599.99
WD Gold 3.5-inch Enterprise Hard Drive - 20TB
#WD201KRYZ
Our Price: $679.99