Ultrastar DC SS530

Scalability for Servers and Storage with Proven, Trusted Design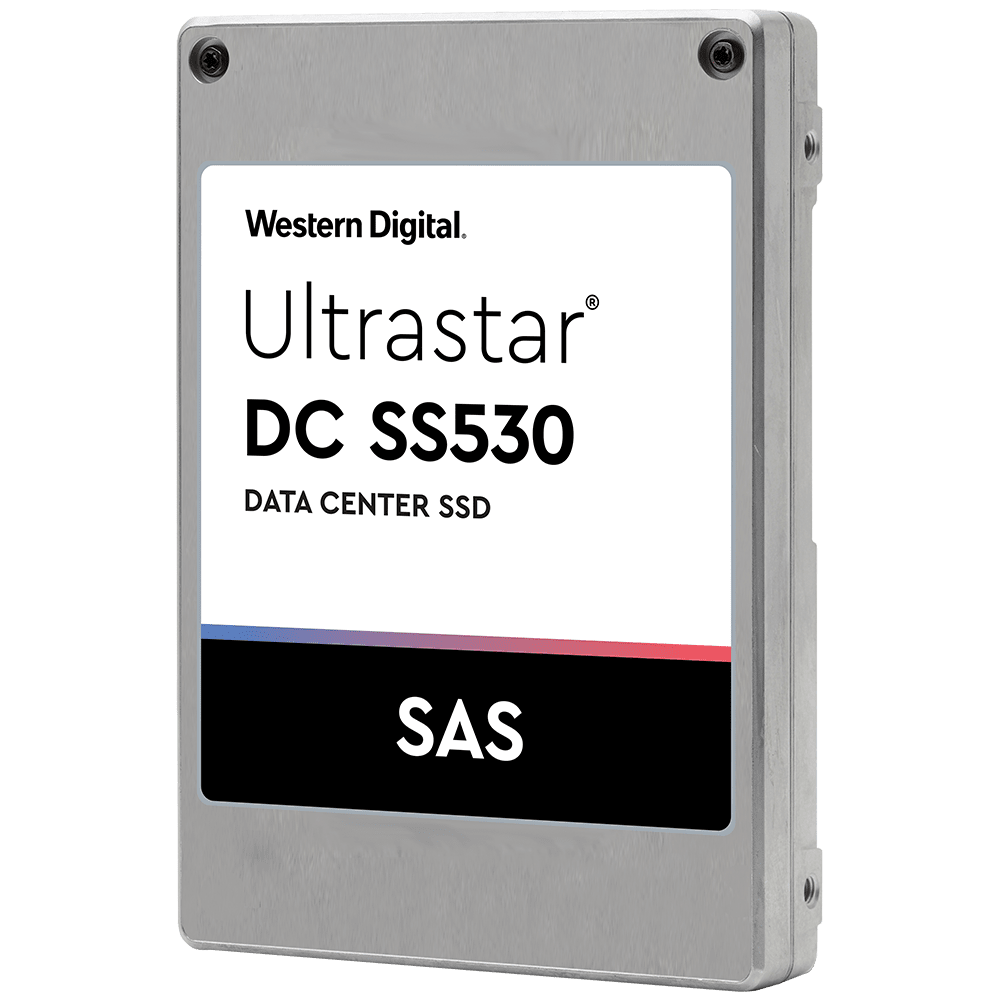 Sorry, this product is no longer available, please contact us for a replacement.
Click here to jump to more pricing!
Overview:
Generations of Proven Designs Provide Reliable, Secure Data Center Scalability
As data centers and enterprises struggle to manage the growing abundance and availability of data, Western Digital delivers a portfolio of dual-port 12 Gb/s Serial Attached SCSI (SAS) SSDs with capacity, performance and endurance options to help address the challenges of data access. Ultrastar DC SS530, our newest SAS SSD, delivers up to 15.36TB, double the capacity of prior generations. Our Ultrastar SAS series includes three endurance options to meet the requirements of a full range of applications and workloads. Data security features include self-encrypting drives based on TCG enterprise standards and FIPS validation. Ultrastar SAS drives are trusted by major OEMs and leverage decades of proven enterprise storage expertise in firmware development, design, and reliability. Ultrastar builds on its strong tradition of leading-edge SAS SSD products to deliver more capacity and better performance, combined with a continued emphasis on reliability to create global scalable, high-availability servers, and storage systems where data can thrive.

Features:
Highlights
Capacities from 400GB to 15.36TB
Reliable, proven dual port 12 Gb/s SAS interface supports high-availability storage environments
3D MLC or TLC NAND Flash delivers performance and endurance
Three endurance options support range of data center workloads
Enterprise-class 2.5M hour MTBF reliability rating
Applications and Workload
Enterprise-class servers and high performance computing
Online Transaction Processing (OLTP)
Financial Transaction Systems
File Servers
Database Analytics
Space and/or power-constrained environments
Specifications:
General
Interface
SAS 12 Gb/s
Form Factor
SFF 2.5-inch drive
Capacity
10 DW/D: 3.2TB / 1.6TB / 800GB / 400GB
3 DW/D: 6.4TB / 3.2TB / 1.6TB / 800GB / 400GB
1 DW/D: 15.36TB / 7.68TB / 3.84TB / 1.92TB / 960GB / 480GB
Endurance
10
3
1
Maximum Terabytes Written (TBW)
10 DW/D: 59,690 / 29,410 / 15,220 / 7,630
3 DW/D: 36,170 / 17,520 / 9,410 / 4,700 / 2,350
1 DW/D: 30,110 / 15,050 / 6,790 / 3,760 / 1,880 / 940
Flash Memory Technology
3D TLC NAND
Performance
Sequential Write (max MiB/s, 128KiB)
2,120
Random Read (max IOPS, 4KiB)
440,000
Random Write (max IOPS, 4KiB)
10 DW/D: 320,000
3 DW/D: 240,000
1 DW/D: 100,000
Mixed Random Read/Write (max IOPS 70%R/30%W, 4KiB)
10 DW/D: 430,000
3 DW/D: 330,000
1 DW/D: 190,000
Read/Write Latency (μs, max)
10 DW/D: 92/26
3 DW/D: 92/27
1 DW/D: 92/36
Pricing Notes:
Pricing and product availability subject to change without notice.