Ultrastar DC SN840

2.5-inch Performance NVMe Solid State Drive (SSD)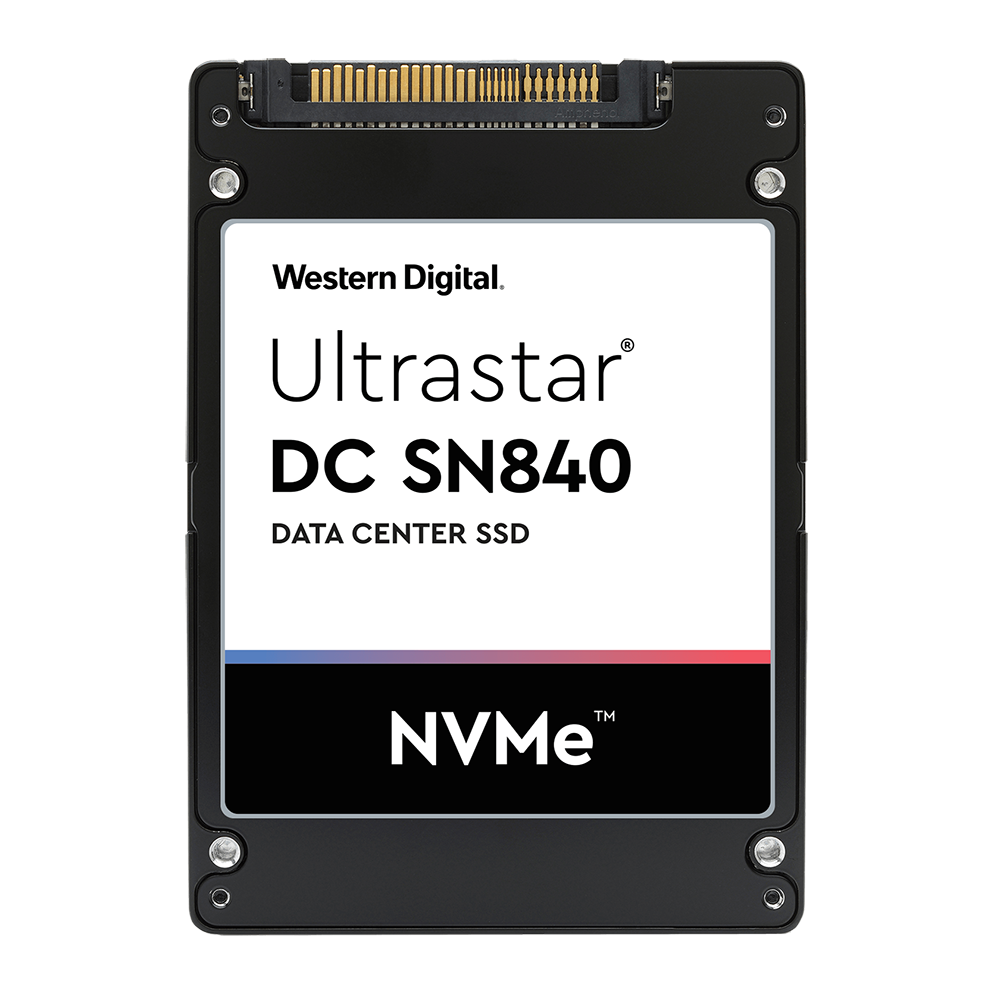 Ultrastar DC SN840 2.5-inch NVMe Solid State Drive, Secure Erease, 1 DW/D - 1.92TB
#WUS4BA119DSP3X1
Get a Quote!
Western Digital dual-port NVMe 1.3c compliant controller; PCIe 3.1
Western Digital 96-Layer 3D TLC NAND
1 and 3 DW/D
Performance: up to RR = 780K IOPS, RW = 257K IOPS, Mixed Random 70/30 Read/Write = 503K IOPS
MTBF rating of 2.5 million hours (projected)
Security Options: Secure Erase (SE) and Instant Secure Erase (ISE), TCG Ruby, FIPS 140-2 validation (forthcoming)
5-year limited warranty
Enterprise features including 128 naamespaces, atomic writes, multiple sector sizes, protection information, SGL, NVMe-MI version 1.1
Click here to jump to more pricing!
Overview
Performance NVMe SSDs Enable Enterprise Workloads
NVMe adoption in the data center continues to grow as modern applications and workloads demand more performance. Performance NVMe SSDs are designed for primary storage for HPC servers and primary storage in external storage arrays. Performance NVMe SSDs target cloud compute and enterprise workloads that require low latency to data and high availability of data. These applications include real-time data analytics, cloud computing, OLTP/OLAP databases, artificial intelligence (AI), machine learning (ML), pattern recognition and virtualization. The Ultrastar DC SN840 is Western Digital's 3rd generation of performance NVMe SSD for data center with PCIe Gen 3.1 (dual-port) NVMe 1.3, providing up to 3,470/3,330 MB/s Sequential Read/Write and up to 503K IOPS mixed random 70/30 read/write performance.
Applications
High peformance computer (HPC)
High availability storage arrays
All mixed use workloads
Artifical Intelligence/Machine Learing
Online transaction processing (OLTP) and online analytical processing (OLAP)
Real-time analytics
Pattern recognition
Virtualization
Dual-port Leadership
Ultrastar DC SN840 extends Western Digital's leadership in dual-port architecture by vertically integrating proven flash controllers. Dual-port high availability supports two redundant paths to the SSD, and is critical to ensuring access to data in the event of a failure in the data path.
Trusted Reliability and Quality for Data at Scale
Ultrastar DC SN840 is bult on Western Digital's 96-layer 3D TLC NAND, with capacities up to 15.36TB in a U.2 2.5" form factor. It offers two endurance classed for workloads; 1 DW/D for read intensive workloads common with the majority of enterprise applications and cloud services, and 3 DW/D for higher write or mixed use workloads such as running SQL. The DC SN840 has a five-year limited warranty with enterprise reliability MTBF of 2.5M hours (projected). The DC 840 offers security options with Secure Erase (SE), Instant Secure Erase (ISE) with an AES-256 encryption engine, TCG Ruby and FIPS 140-2 validation (forthcoming).
---
Pricing Notes:
Pricing and product availability subject to change without notice.