Ultrastar DC HC560

3.5-inch Helium Platform Data Center SATA Hard Drive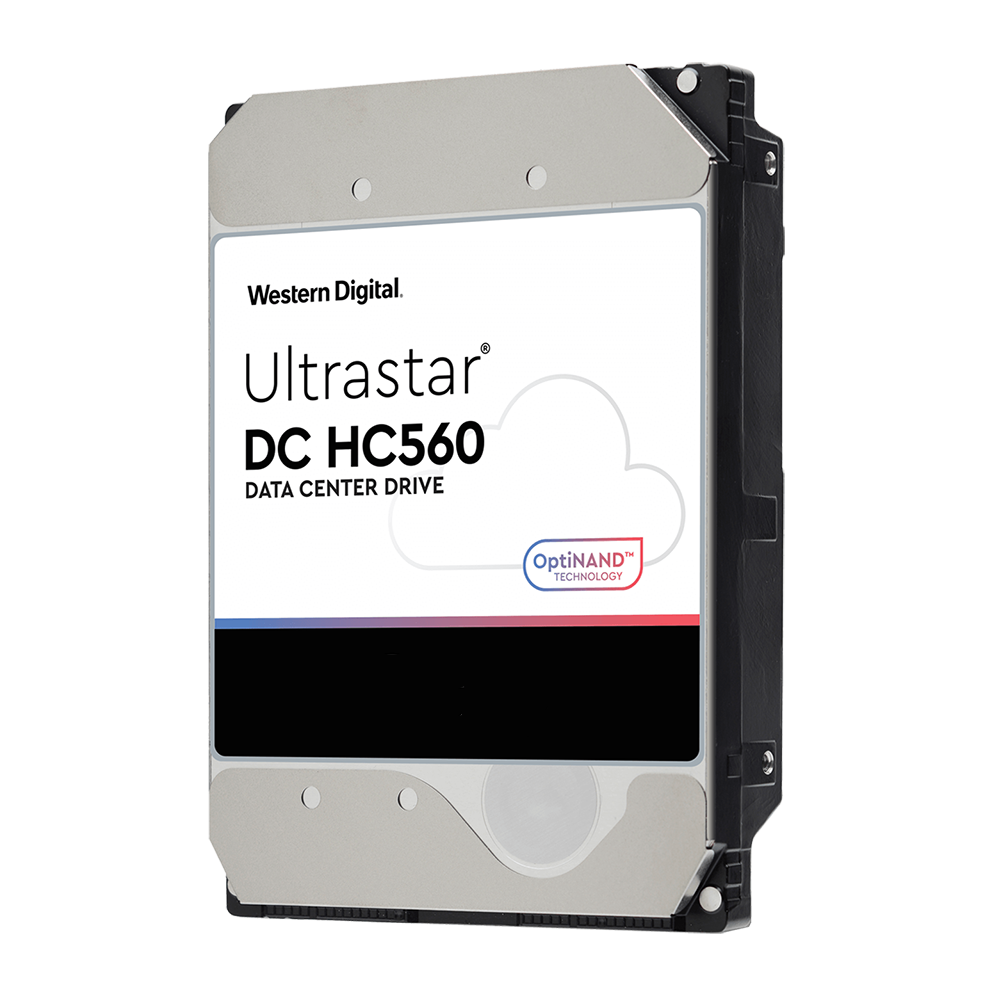 Ultrastar DC HC560 3.5-inch SATA Hard Drive - 20TB
#WUH722020ALE6L4
Get a Quote!
20TB capacity in a standard 3.5-inch form factor
ePMR & CMR technology works with all capacity enterprise applications & environments
OptiNAND for highest capacities
Reliable, field-proven, 7th generation HelioSeal design delivers outstanding power efficiency
Industry-leading HDD technologies; OptiNAND, EAMR, TSA, HelioSeal
2.5M hours (projected) MTBF rating & 5-year limited warranty
Self-Encrypting Drive (SED) options
Click here to jump to more pricing!
Overview
Driving up Capacity and Driving Down TCO
The Ultrastar DC HC560 SATA HDD is an innovative storage architecture to help our customers meet their need for exponential data growth.
Applications
Cloud and hyperscale storage
Massive scale-out (MSO), high-density data centers
Distributed file systems
Bulk storage using object storage solutions like Ceph and OpenStack Swift
Primary and secondary storage for Apache Hadoop for big data analytics
Reimagining the HDD to Meet the Growth of Data
Hyperscale cloud, CSPs, enterprises, smart video surveillance partners, NAS suppliers and more need storage solutions to meet the exponential growth in data creation. When it comes to cost-effective storage of data at scale, hard disk drives (HDDs) continue to play a central role. HDDs deliver the capacity, performance and reliability needed to store vast amounts of data today and well into the future. Investments in HDD technology remain critical to supporting worldwide data growth.
Western Digital has developed flash-enhanced drives with OptiNAND technology by vertically integrating our leading NAND flash with our world-class HDDs.  Western Digital HDDs have been leaders in areal density with industry first technologies of energy-assisted magnetic recording technology (EAMR), triple-stage actuator (TSA), HelioSeal, and now OptiNAND technology. Higher areal density means higher capacities to meet storage challenges.
20TB HDDs with OptiNAND Technology
OptiNAND integrates an iNAND Universal Flash Storage (UFS) Embedded Flash Drive (EFD) with traditional spinning disk media, and incorporates innovative changes to the firmware algorithm and system-on-a-chip (SoC). OptiNAND is not a hybrid technology. The drive works smarter, with enhanced firmware algorithms taking advantage of expanded metadata that has been offloaded to the iNAND, enabling more tracks per inch (TPI) with resulting increased areal density.
The Ultrastar  DC HC560, with the first implementation of OptiNAND technology's capacity-enabling features, delivers an unbeaten 20TB capacity in a nine-disk platform (2.2TB/platter) with CMR recording format.
Western Digital Quality and Service
The Ultrastar DC HC560 meets modern data center reliability requirements with 2.5M MTBF (projected) and a 5-year limited warranty. It offers security and encryption options to help protect data from unauthorized use, including SED models.
Trust Western Digital and the Ultrastar DC HC560 hard drive to deliver the highest capacity and greatest value for your data center.
---
Pricing Notes:
Pricing and product availability subject to change without notice.
Western Digital Products
Ultrastar DC HC560
Ultrastar DC HC560 3.5-inch SATA Hard Drive - 20TB
#WUH722020ALE6L4
Get a Quote!