Ultrastar DC HC520

3.5-inch Helium Platform Data Center SAS or SATA Hard Drive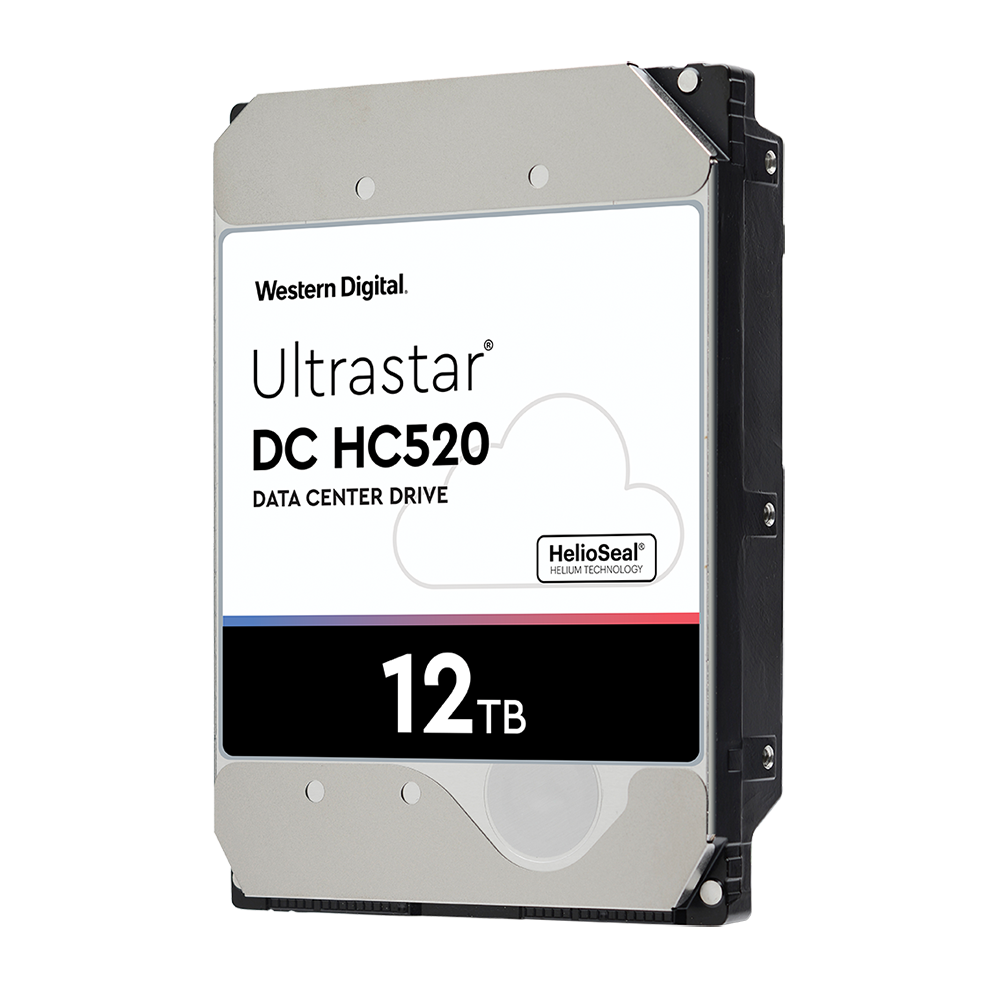 Ultrastar DC HC520 3.5-inch SATA Hard Drive - 12TB
#HUH721212ALE60y
Get a Quote!
12TB capacity in a standard 3.5-inch form factor
PMR technology works with all capacity enterprise applications & environments
Reliable, field-proven, 4th generation design
Outstanding power efficiency (Watts/TB)
2.5M hours MTBF rating & 5-year limited warranty
Instant Secure Erase (ISE) & Self-Encrypting Drive (SED) options
Advanced Format 4Kn and 512e models
Click here to jump to more pricing!
Overview
Driving up Capacity and Driving Down TCO
The Ultrastar DC HC500 series SAS or SATA HDD are-series is designed for public and private cloud environments where storage density and cost-efficient infrastructure is critical.
Applications/Environments
Enterprise and data center applications where capacity density, power efficiency and reliability are paramount
Cloud & Hyperscale storage
Massive scale-out (MSO), high-density data centers
Distributed File Systems
Bulk storage using object storage solutions like CEPH and OpenStack Swift
Primary and secondary storage for Hadoop to support Big Data Analytics
Centralized video surveillance
Ideal for all mainstream enterprise capacity applications
More Value to the Data Center with Maximum Capacity, Power Efficiency and Reliability
Laying the foundation for a worry-free data center, Western Digital delivers capacity to conquer the data explosion – Ultrastar® DC HC520, previously known as Ultrastar He12 and part of our HC500 series of helium-filled hard drives. Designed to handle workloads up to 550TB per year, the Ultrastar DC HC520 is the industry's first 12TB drive and uses traditional perpendicular magnetic recording (PMR) technology to make it dropin ready for any enterprise-capacity application or environment. The stable internal environment created by fourth-generation HelioSeal technology enables a new 8-disk design, increasing the capacity by 20% when compared to the 7-disk design of the prior generation, Ultrastar DC HC510. This high capacity helium drive offers one of the lowest power profiles in the industry to help data center architects meet eco-environmental goals and requirements. Targeted at 2.5M hours MTBF, the Ultrastar DC HC520 provides the highest reliability rating available of all HDDs on the market today by building on the successful design of its 10TB, 8TB and 6TB predecessors. Trust Western Digital and the Ultrastar DC HC520 to deliver more capacity, more efficiency, more reliability and more value to your data center.
HelioSeal Technology Helps Solve Challenges Facing Next Generation Data Centers
Data centers are facing growing pressures. Data volume is expanding, operating costs are rising, yet budgets remain flat. Lowering the total cost of ownership (TCO) has become the focus of data center architects and the Ultrastar DC HC520 provides the best value proposition and greatest storage efficiency available. Compared to 8TB Ultrastar air-filled drives, this HelioSeal hard drive provides 50% more capacity, uses 52% less power (Watts/TB), and is 25% more reliable, rated at 2.5M hours MTBF. Datacenter ready features like a second generation dual-stage actuator—the Western Digital Micro Actuator—enhance head-positioning accuracy to deliver better performance, data integrity and overall drive reliability, especially in multi-drive environments where operational vibration is present. Refer to our technical brief to learn more. A choice of 6Gb/s SATA and 12Gb/s SAS interface enables easy integration into high performance data centers.
Data Durability and Data Security to Support Compliance and Privacy Requirements
As drive capacity grows beyond single-digit TBs, object storage systems with erasure coding provide better data durability compared to RAID systems, given its tolerance for simultaneous error conditions. The Ultrastar DC HC520 is a best-fit for object storage implementations with its massive capacity and unbeaten reliability rating. Compliance and privacy requirements drive the need for increased data security. The Ultrastar DC HC520 offers security and encryption options to help protect data from unauthorized use, including TCG SAS models.
Western Digital Quality and Service
The Ultrastar DC HC520 extends Western Digital's long-standing tradition of reliability leadership with a 2.5M-hour MTBF rating and a 5-year limited warranty. Ultrastar quality, capacity, power efficiency, and world-class technical support and service provides customers with a lower total cost of ownership over previous generations. Western Digital data center drives are backed by an array of technical support and services, which may include customer and integration assistance. Western Digital is dedicated to providing a complete portfolio of products and services to help create environments for data to thrive.
---
Pricing Notes:
Pricing and product availability subject to change without notice.
Western Digital Products
Ultrastar DC HC520
Ultrastar DC HC520 3.5-inch SATA Hard Drive - 12TB
#HUH721212ALE60y
Get a Quote!
Ultrastar DC HC520 3.5-inch SAS Hard Drive - 12TB
#HUH721212AL420y
Get a Quote!