Ultrastar DC HC310

3.5-inch Data Center SAS or SATA Hard Drive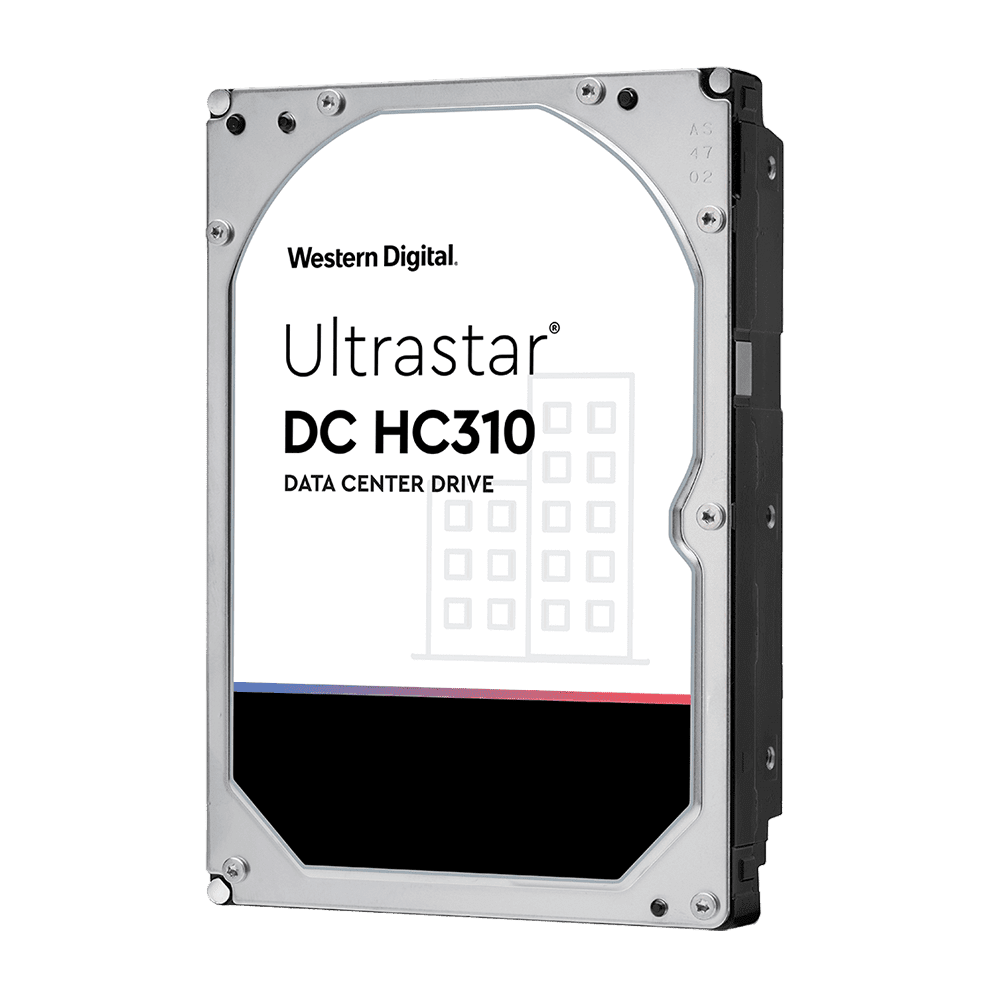 Ultrastar DC HC310 3.5-inch SATA Hard Drive - 4TB
#HUS726T4TALE6L4
Get a Quote!
4TB-6TB capacity points support both OEM & cloud deployments as well as traditional IT systems
Leverages common hardware & firmware to minimize redundant testing needs
Sustained transfer rate up to 262MB/s
Advanced Format 4K and 512e format
Self-Encrypting Drive options
5-year limited warranty
Click here to jump to more pricing!
Overview
Mid-capacity Drives
The Ultrastar DC HC300-series provides low to mid-capacity drives that are economical to acquire, yet deliver quick and reliable data access for traditional data center applications.
Applications and Workloads
Distributed file systems, like Apache Hadoop, to support Big Data analytics
Rack-mounted storage enclosures
Server based distributed storage systems.
Direct & Network Attached Storage (DAS & NAS)
RAID
Economical Capacities and Fast Data Access Key Requirements for HDDs in the Data Center
IT managers need to offer storage tiers as they deploy purpose-built solutions to meet their on-prem, off-prem & cloud storage requirements. While helium filled drives enable the highest capacities, air-filled drives offer important benefits.  With a lower TCA (total cost of acquisition), legacy options, and higher access density (IOPs/TB), they are the perfect choice for maintaining a desired level of performance while allowing customers to tailor budgets to meet their needs. The Ultrastar DC HC300-series help to address data center requirements by providing capacities from 4TB to 10TB while increasing performance over prior generations.  They are designed for a variety of applications including traditional storage arrays, rack-mounted storage enclosures and server-based distributed storage systems, as well as distributed and scalable computing, including block and file storage architectures.  They are offered at 7,200 RPM with either 6Gb/s SATA or 12Gb/s SAS interface in Advanced Format 4Kn and512e format. A 512n option is also available on 4TB models to support legacy systems with native 512-byte block sizes.
HelioSeal Technology Helps Solve Challenges Facing Next Generation Data Centers
Data centers are facing growing pressures. Data volume is expanding, operating costs are rising, yet budgets remain flat. HelioSeal technology enables Ultrastar DC HC530 to deliver one of the lowest power profiles in the industry, helping data center architects meet eco-environmental goals and requirements. Designed to handle workloads up to 550TB per year, the Ultrastar DC HC530 is based on conventional magnetic recording (CMR) technology for drop-in simplicity in enterprise and cloud data centers. Features like TDMR technology (two-dimensional magnetic recording) and a third-generation dualstage microactuator work together to enhance head-positioning accuracy and deliver better performance, data integrity and overall drive reliability, critical in multi-drive environments where operational vibration is present. A choice of 6Gb/s SATA or 12Gb/s SAS interface enables easy integration into high performance data centers. Trust Western Digital and the Ultrastar DC HC530 hard drive to deliver more capacity, more efficiency, more reliability and more value to your data center.
Technology Innovation Delivers Efficiency and Performance for Traditional and Legacy Systems
Ultrastar DC HC300-series are based on a proven and cost-efficient air-based HDD platform design, with Conventional Magnetic Recording (CMR) technology in a 3.5-inch large form factor.  These HDDs leverage common hardware and firmware while featuring a second-generation, dual-stage microactuator to enhance head positioning accuracy for better drive performance.  Write performance gains are also supported by Western Digital's media cache architecture, a disk-based caching technology that provides a large cache area on the disk, improving reliability and data integrity. Finally, the addition of a flash-based non-volatile cache (NVC) on both SATA and SAS models helps improve write performance.
Data Security with Trusted Quality, Reliability
Compliance and privacy requirements drive the need for increased data security. The Ultrastar DC HC300-series offers security and encryption options to help protect data from unauthorized use, including SED models in both SATA & SAS. An SED-FIPS validated version is available in a SAS configuration. The Ultrastar DC HC300-series extend Western Digital's long-standing tradation of reliability leadership with a 2M-hour MTBF rating, workloads up to 550TB per year, and a 5-year limited warranty.
---
Pricing Notes:
Pricing and product availability subject to change without notice.
Western Digital Products
Ultrastar DC HC310
Ultrastar DC HC310 3.5-inch SATA Hard Drive - 4TB
#HUS726T4TALE6L4
Get a Quote!
Ultrastar DC HC310 3.5-inch SAS Hard Drive - 4TB
#HUS726T4TAL5204
Get a Quote!
Ultrastar DC HC310 3.5-inch SATA Hard Drive - 6TB
#HUS726T6TALE6L4
Get a Quote!
Ultrastar DC HC310 3.5-inch SAS Hard Drive - 6TB
#HUS726T6TAL5204
Get a Quote!