ActiveScale P100

Highly Scalable Cloud Object Storage Systems Facilitate a Data-Forever Architecture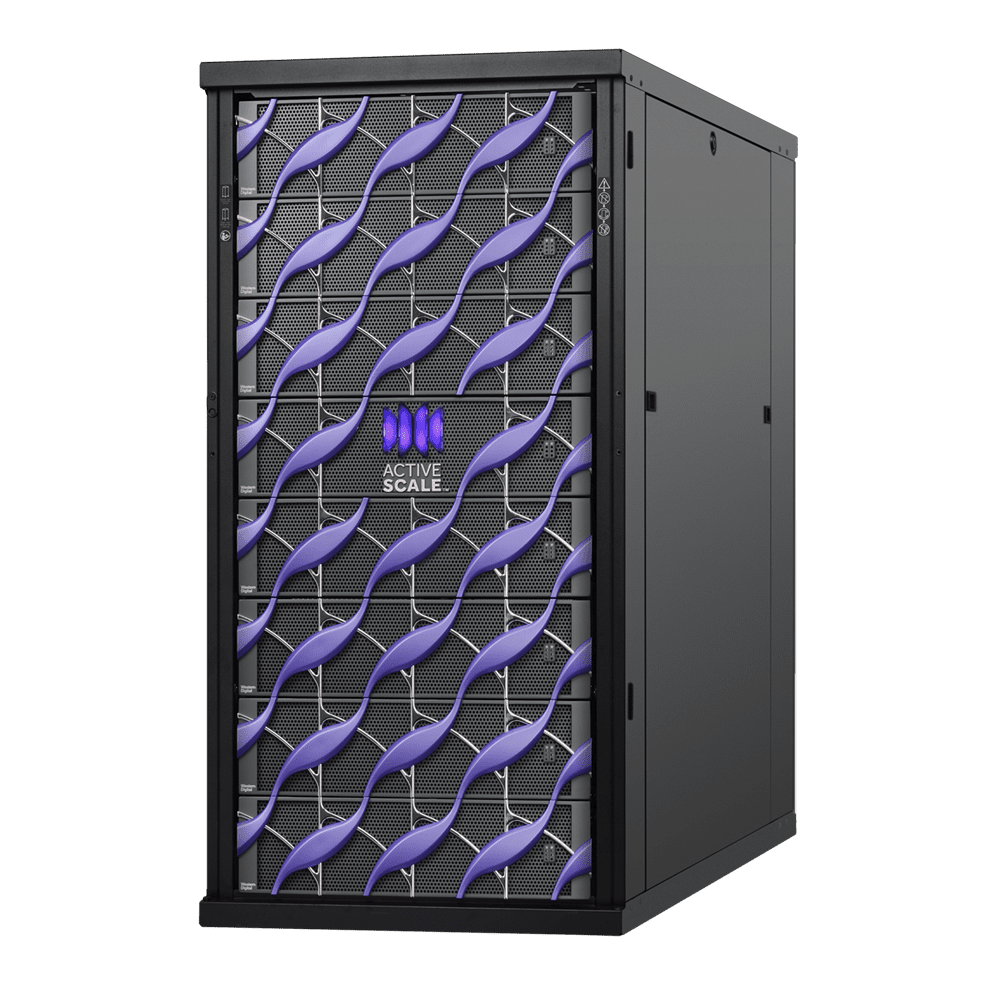 Sorry, this product is no longer available, please contact us for a replacement.
Click here to jump to more pricing!
Overview:
Gain Insights, Extract Value, and Improve Business Outcomes
More and more, companies are looking to increase their competitiveness and gain valuable insights by treating data as a business asset. However, unlocking value often introduces challenges in managing, scaling, storing, and analyzing massive amounts of unstructured file or object data. ActiveScaleTM addresses these challenges by delivering an integrated system that can be up and running quickly with an architecture that is designed for petabyte-scale datasets. This architecture provides the foundation for storing data forever and extracting more value.
Can Data Live Forever?
Your data will probably outgrow and outlive the storage infrastructure where it currently resides, requiring a painful forklift upgrade and/or data migration to a more scalable environment.
ActiveScale leverages our patented BitSpread® technology and dynamic data placement to enhance data durability and facilitate a Data Forever architecture. This enables the underlying storage infrastructure to be improved and expanded over time without disruptive hardware changes.
BitDynamics® maintains high data integrity, with data verification and self-healing performed in the background.
A Solutions Portfolio That Is Right for You
Solving complex challenges rarely depends on a single technology, but rather on a holistic solution – a synthesis of hardware, software, and design know-how that can be tailored and deployed in a variety of ways to change the way an organization operates.
ActiveScale represents the next-generation cloud object storage system for capacity-intensive data needs across a wide range of industries and use cases.
Whether you have an IT hurdle to overcome or a business need to understand and capitalize on the value of data – capturing, accessing, analyzing, transforming, and preserving it – Western Digital has a solution that is right for you.
Features:
Highlights
Ready to Deploy - Pre-configured system speeds implementation
Scalable - Scales up to 7PB (raw) and scales out to over 63PB (raw)
Highly Resilient - Patented technologies provide up to 19 nines of data durability
Excellent TCO - Low acquisition cost, power/TB, and operating costs
Easy to Use - Manage the entire namespace from a single pane of glass
Applications and Workloads
Data Protection
Backup and Archive
Tape Conslidation
Disaster Recovery
Digital Repositiories
Digital Assets
Sync and Share Collabration
Unstructured Data Repositories
Analytics & Machine Learning
Data Lakes and Big Data Analytics
Predictive Modeling
Supply Chain Optimization
Media & Entertainment
Digital Media Archives
Cloud Burst
File Ingest
Specifications:
Capacity
Base capacity (raw/usable) 12TB HDDs
864/579-614TB
Maximum Namespace (raw/usable) 12TB HDDs
23.3/15.6-16.5PB
Maximum number of objects
5.4B
Maximum multi-part object size
50TB
Software
Operating system software
ActiveScale OS 5.x
Management interfaces
Real-time System Management Console, CLI, RESTful API
System analytics
ActiveScale CM, a cloud-based storage analytics service
Security
Data encryption in flight SSL/TLS using AES-256, Data encryption at rest (AES-256)
Data protection
BitSpread: Advanced Erasure Coding and Dynamic Data Placement
SW/FW upgrades
Nondisruptive rolling upgrades
Characteristics
Performance
Client throughput performance up to 6 GB/sec
Data durability
Up to 19 nines (99.99999999999999999%)
Connectivity
Protocols
RESTful S3
Client connectivity
60 Gb/sec (6x10 Gbps) for base configuration
Physical Size
Rack dimensions (mm/in)
Customer provided
Max Configuration weight (kg/lbs)
656 kg/1,447 lbs
Power
Max Power consumption - typical/max (W)
4.61/5.08 kW
Max Power consumption - typical/max (KVA)
4.67/5.12 kVA
Power characteristics
100-240V, single-phase or three-phase with redundancy and intelligent power
Environmental
Cooling
Redundant high efficiency fans
Temperature range- operating (C, F)
10°C to 35°C (50°F to 95°F) derated 1°C per 300m over 950m altitude increase
Temperature range- non-operating Humidity-operating
-40°C to 66°C (-40°F to 151°F) derated 1°C per 300m over 3000m altitude increase 20-85% relative humidity
Compliance
FCC/ICES-003, CE, VCCI, CISPR 22, CISPR 24, KN22, KN24, EN60950-1 2nd edition, UL60950-1 2nd edition
Max BTUs/hr (typical/max)
21.83/25.25 K BTU/h
Max Carbon footprint
0.003 Metric Tons
Pricing Notes:
Pricing and product availability subject to change without notice.